Veg Week Highlights
APRL's 3rd Annual Veg Week was more successful than we could have imagined - here are some highlights:
More than 1,600 people took the veg pledge (more than double last year)!
Two San Diego Councilmembers, Todd Gloria and Marti Emerald, took the pledge and blogged on Facebook about their

exp

eriences
At least 10 media outlets covered Veg Week
The County of San Diego passed a resolution honoring Veg Week, at the request of Supervisor Pam Slater-Price, an animal lover and friend of APRL (see photo of resolution below)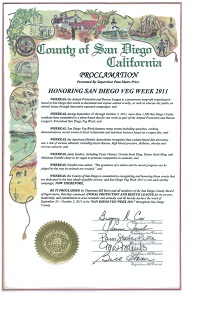 Updates
Los Angeles became the 8th City Council to pass a resolution against foie gras cruelty in September, at the request of APRL.
Approximately 5 restaurants dropped cruel foie gras after being contacted by APRL in July.
APRL co-founder Kath Rogers was acknowledged as one of Patch's Top 30 Under 30 Leaders in San Diego County - here is the article.
Attendees at APRL's Veg Week Celebration proved that vegetarians can in fact dance (see below photo)! Click here for more event photos.
Talk Back: What You are Saying about Veg Week...
"Discovering great food and thinking more about what I eat. Thanks for this opportunity to eat healthier and feel better." – Councilmember Marti

Emerald
"I am getting informed on health. I win, the animals win. I think that is what keeps me going." --Utlandi in South Africa
Being a vegetarian has been very fun. I enjoy the way I feel and am having a great time visiting new restaurants and creating new dishes." --Gabriel in San Diego
Upcoming Events:
Leafleting, Little Italy Festa -
Sun, Oct 9
APRL Table, Escondido Fair -
Sun, Oct 16
APRL Night at Local Habit -
Thurs, Oct 20
Forks Over Knives screening -
Sun, Oct. 23
Save the Date:
8th Annual Turkey-free Vegan Thanksgiving
Saturday, Nov 19
Orange County Events:
Long Beach Zombie Walk for the Animals
When: October 30, 3:30-5:00
Where: Gaslamp Restaurant and Bar, 6251 Pacific Coast Highway, Long Beach, CA 90803
Event includes a zombie walk through Long Beach, live music, a costume contest, a silent auction, prizes and more!
Click here to buy tickets ($25 online or $35 at door). Contact Brenda@APRL.org for details!
Shop at or donate to the APRL Thrift Store
Stop by
APRL's Thrift Store
to check out a variety of clothes, housewares, jewelry, books and more. You can feel good about shopping and donating because all of the proceeds go toward helping animals!